WEDDING PLANNING - EXCLUSIVE DESIGN - FLORAL ART
...The most beautiful love story starts here! ...
This is how Sardinia, the pearl of the Mediterranean, with extraordinary beauty, becomes an exclusive destination for those looking for locations that are the ideal setting for making their unforgettable wedding dreams come true, capable of leaving indelible memories not only in the minds and hearts of the beautiful couples, but also for those lucky enough to participate in the perfect event, the day of the "YES", living a magical "emotional experience", relaxed and pampered by a thousand details designed specifically for them . As Voltaire said, "Love is a canvas formed by Nature and embroidered by our imagination and our emotions", we can say that "Destination Wedding" represents the choice of a destination that has emotion as its main character, but also a unique and special experience that stands out for its magic and intimacy. ...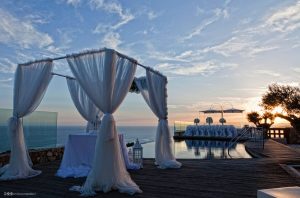 "Excellence is never an accident, it is the result of a great intention, a great and sincere effort, an intelligent execution. It represents the wise choice of many alternatives ... choice ... not possibility, determines your destiny "
Aristotle